Our National Parks are being overrun, and the time has come to put together a comprehensive transportation plan for the National Park system. The problem today is that our National Park system is overused creating major traffic problems and crowds that make it seem like that place in Southern California. Today we need to start planning now for alternative transportation systems in our national parks that will move people in and out of the parks easier and with less ecological impacts. This is especially true in our more crowded and compact members of the park system.
What comes to mind when you think of the National Parks? Do you think of some remote spot in Yellowstone, the opportunity to awe at the Grand Canyon, the opportunity to see some unique arch formation at Arches, or is it the beauty that photography Ansel Adams captured in his many photos of Yosemite National Park?
I will take the beauty of Yellowstone any day over a trip to the artificial wonderland in Southern California that just raised its prices again with its phony Main Street and long lines. I think about the time on Hurricane Ridge at Olympic National Park where we climbed a six foot tall snow bank in the middle of July, or watched a mountain goat eat in a prairie during a snow storm in early July in Glacier National Park.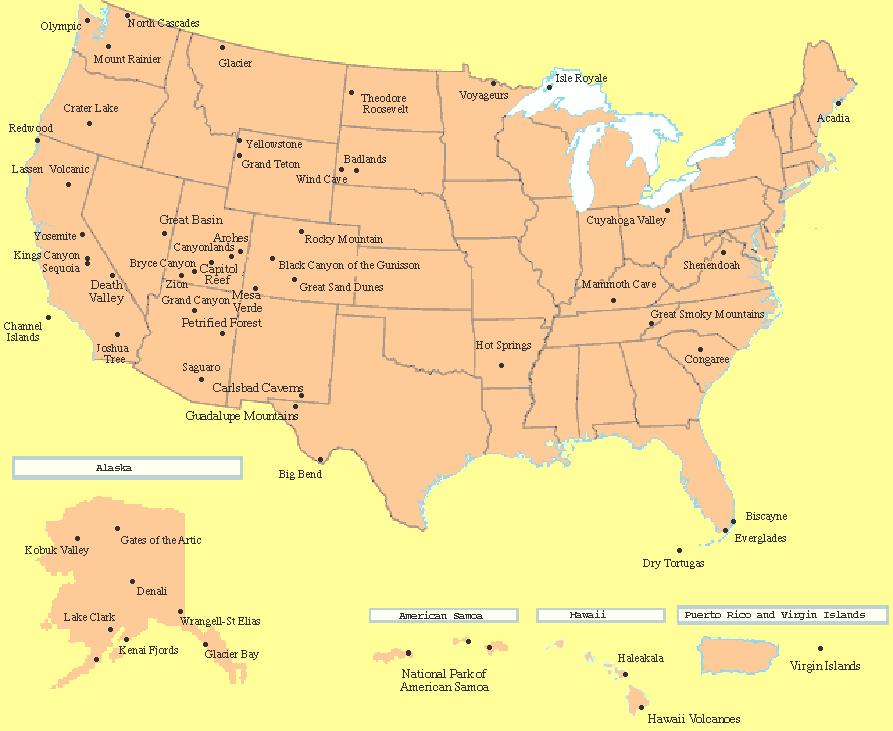 Map of Major National Parks provide by terragallery.com
To make matters worse the National Parks service budget is extremely strained as it funding is looked at as an easy target for politicians trying to convince the voters in their home district that they are doing something on the budget deficit. Meanwhile while some parks already have plans in place, others are struggling under the weight of so many visitors.
Yosemite National Park is a perfect example. Situated ideally close to San Francisco and Sacramento, Yosemite is being loved to death. During the summer traffic in, around and out of the park can be a nightmare. Yosemite however does have an extensive shuttle system along with offering bus service that connects with Amtrak's San Joaquin service, Greyhound in Merced. However, travel is not being restricted except to certain spots in the park (National Park Service).
A second example is Glacier National Park in Montana. Glacier benefits from having access to one of Amtrak's most popular trains the Empire Builder at both ends of the park. In addition there is not only shuttle service provided by the park but there is also the famous red touring vehicles that run tours from many points into and out of the park. Despite all these options the main road through Glacier "Going to the Sun Road" is still often bumper to bumper with cars and finding parking spots can be difficult even early in the season.
On the other hand Zion National Park in Utah took the radical step several years ago to eliminate private automobiles form the park during peak periods and offers an extensive shuttle service to all the major points in the park. Despite the fears that this would cause people to avoid the park it has turned out that people have continued to come to park and in fact the park broke a attendance record in 2010 (Deseret News).
The Grand Canyon National Park had some of the most ambitious plans. In the late 1990's the park was planning to build a light rail system that would transport passengers around the major sights in the park and allow the park to basically ban cars from traveling into and out of the park. The light rail trains would also connect with the Grand Canyon Railroad which provides a tourist train between Williams, Arizona and the rim of the Grand Canyon (Associated Press). However, the conservative Goldwater Institute fought the plans and convinced the Arizona State Senators to fight the plan which eventually was abandoned (Foster).
For some parks, an alternative transportation plan is not going to be easy such as Yellowstone because of its size and distance from major cities. However, that does not mean that a alternative transportation plan cannot be developed and in fact should be developed. While the light rail plan may have been killed in the Grand Canyon, the traffic problems have not magically disappeared.
The transportation plan needs to take into account not only how people get around the parks but how people get to the parks. What alternatives exist for people to use instead of their alternatives? For some parks this question is wide open because they are accessible by train, bus, bicycle, etc. while others have limited alternative transportation access. While many parks offer shuttles or tour buses, we need a comprehensive plan for the park service as a whole and it should have been done years ago. The time for action to protect our treasured National Parks is now!
Associated Press (1997, November 25). Light Rail to Replace Most Cars in Grand Canyon. Sunday Courier. Retrieved June 8, 2013, from http://news.google.com/newspapers?nid=896&dat=19971125&id=kbQKAAAAIBAJ&sjid=gE0DAAAAIBAJ&pg=5156,3876971
Foster, D. (n.d.). Grand Canyon Transportation Planning: The Railroading of Visitors | Goldwater Institute . Goldwater Institute. Where freedom wins. . Retrieved June 10, 2013, from http://goldwaterinstitute.org/article/grand-canyon-transportation-planning-railroading-visitors
National Park Attendance 2008-2012. (n.d.). National Park Service. Retrieved June 8, 2013, from https://irma.nps.gov/Stats/SSRSReports/System%20Wide%20Reports/5%20Year%20Annual%20Report%20By%20Park
White, D. D. (2007). An Interpretive Study Of Yosemite National Park Visitors' Perspectives Toward Alternative Transportation In Yosemite Valley. Environmental Management, 39(1), 50-62.
Yosemite National Park - Yosemite National Park. (n.d.). U.S. National Park Service - Experience Your America. Retrieved June 10, 2013, from http://www.nps.gov/yose/index.htm
Zion National Park - Zion National Park. (n.d.). U.S. National Park Service - Experience Your America. Retrieved June 10, 2013, from http://www.nps.gov/zion/index.htm
Zion National Park attendance breaks record. (2010, May 10). Deseret News. Retrieved June 9, 2013, from http://www.deseretnews.com/article/700007187/Zion-National-Park-attendance-breaks-record.html?pg=all